The Zumba Boys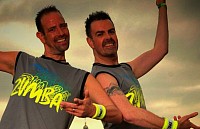 What is Zumba?
Zumba® is a fun routine inspired by Latin dance that will make you fit, whilst having fun"
A typical class will consist of
 - a warm up session -
- the main routine -
- a cool down -
The 60-minute program incorporates footwork and body movements from flamenco, salsa & other international dance styles. Participants pump their legs, windmill their arms, move their hips, clap their hands, dip, slide and spin. 
Just don't forget to wear comfortable workout clothes & fitness/dance shoes
Bring a towel & water.
BUT most of all - your "party" attitude. 
Both Tom and David live in Edinburgh and are trained Zumba® Instructors.
Each Zumba class is guaranteed to be ENERGETIC & FUN.
To me Zumba® is like a good night out spent on the dance floor amongst friends
So why not join in with us because
"WE LIKE TO PARTY".
... The Edinburgh Zumba Boys...
 Class Price - £6
FOR CHANGES TO CLASSES
PLEASE SELECT THE 'IMPORTANT NEWS' LINK
 ~~~~~~~~~~~~~~~~~~~~~~~~
Tuesday
Carrickvale Community Centre
2 Saughton Mains Street, Edinburgh, EH11 3HH 
10.00am-11.00am (Zumba)
~
Valley Park Community Centre
37 Southhouse Road, Edinburgh, EH17 8EU
6.30pm-7.30pm (Zumba)
Wednesday
St Kentigern Church Hall
26 Parkgrove Avenue, Edinburgh, EH4 7QR.
10.00am-11.00am (Zumba)
Thursday
The Gibson Craig Hall
156-158 Lanark Road West, Currie, Edinburgh, EH14 5NY
10.15am-11.15am (Zumba)
Friday
Carrick Knowe Church Hall
118 - 132 Saughton Road North! Edinburgh, EH12 7DR
9.30am - 10.30 (Zumba)